Quote of the day:
There is no sincerer love than the love of food. 
George Bernard Shaw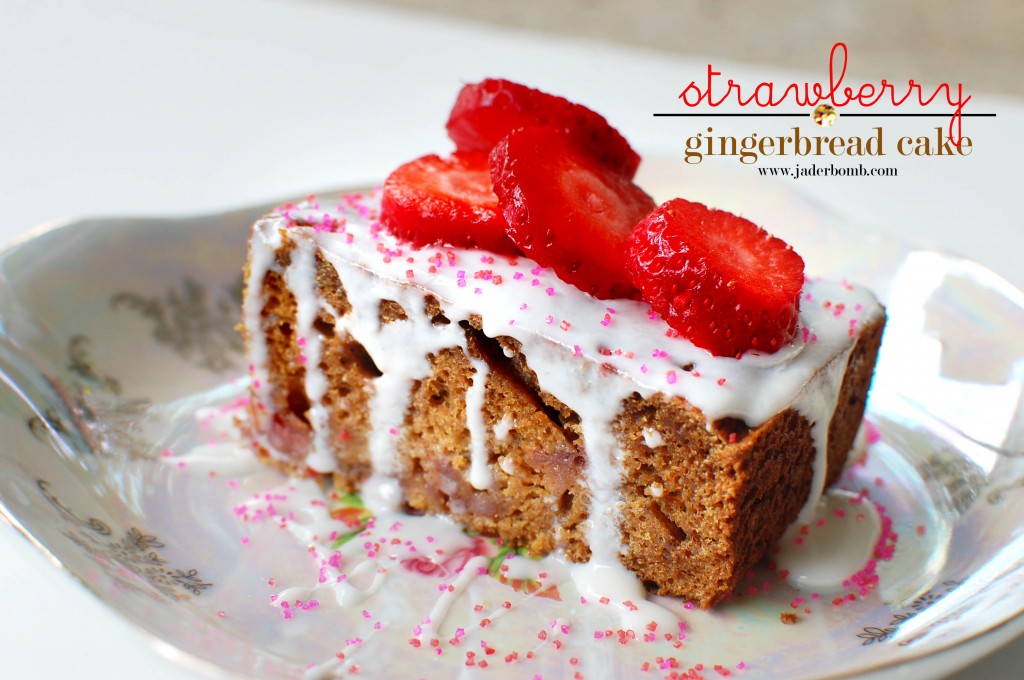 I am totally into baking lately. I have always loved to bake but it's like the baking bug bit me. Over the Christmas break Ashy and lil one loved every second of it. I just kept bringing them food then desserts then food then desserts, haha. I am excited to share this recipe with you because I sorta made it up as I went. I'm not saying there is no other Strawberry Gingerbread out there but for me I added as I went along. I was just supposed to bake plain gingerbread using the Betty Crocker mix and while I was in the kitchen I started making a salad then before you knew it the strawberries that were in my salad flew into my gingerbread mix! HAHA
Seriously. They just flew in there like they knew that was where they needed to be.
Boy did it come out good! Let's make it.
INGREDIENTS: 
*Betty Crocker Gingerbread Mix
*1 cup of diced strawberries
Start by following the directions on the back of the gingerbread box then throw in your berries. Mix it good then throw it in the oven. Well not really "throw" but pop um in there.   When it is done baking let it cool off good. I mixed powdered sugar with a little bit of water to make my topping. To do this the ratio is 2 to 1. I put two scoops of sugar and one of water ,you might have to add a little bit more water depending on how your consistency is. I melted a little bit, drizzled it on top of my gingerbread then topped it with fresh strawberries.
YUM-O
When you eat it warm you can taste all of the fresh baked strawberries inside and it's so good. If you don't want the sugar drizzle on top you can replace with whipped cream.
I hope you enjoyed this SUPER SIMPLE recipe. Make sure you come back tomorrow for my favorite featured pics on Valentine's day crafts. You never know you might be featured.
If you would like to be featured please send me a link to something "Valentiney" to jade@jaderbomb.com
See you in the next post!

&copy Copyright 2013 jaderbombllc, All rights Reserved. Written For:
JADERBOMB