Homemade Fresh Southern Salsa! Who's ready to taste the best salsa you have ever put in your mouth! Seriously this stuff is like crack. Not that I know what crack is like but from all the programs on television I can gather it's pretty addicting. I always like to have salsa stashed away in my freezer because you never really know when you will have to entertain or when you might have late night cravings. I usually make a few batches and freeze them in containers with the dates on them. Key to getting that done is making the time y'all! These day's time is very precious and extra time is very rare, hehe!
If you are into preparing food you could make batches of mild, medium and hot. I just make all of my salsa hot because here in the South that is how we roll. I think all the parents in the South put hot sauce in our bottles as babies to prepare us for out future in Louisiana. This means once we go out into the world as adults we realize just how BLAND every thing else is. Which is why it's always good to carry this and this with you at all times while traveling!
Enough of this, let's get to the nitty gritty – how to make this bowl of awesome sauce.
I am very proud to say that all of the ingredients came from our garden except the lime and red pepper flakes. We do have a lime tree but it's not ready yet. So if you ever eat my salsa just know it was made with lot's of love!
Don't forget to check out my last post on 10 Summer Home Decor Ideas!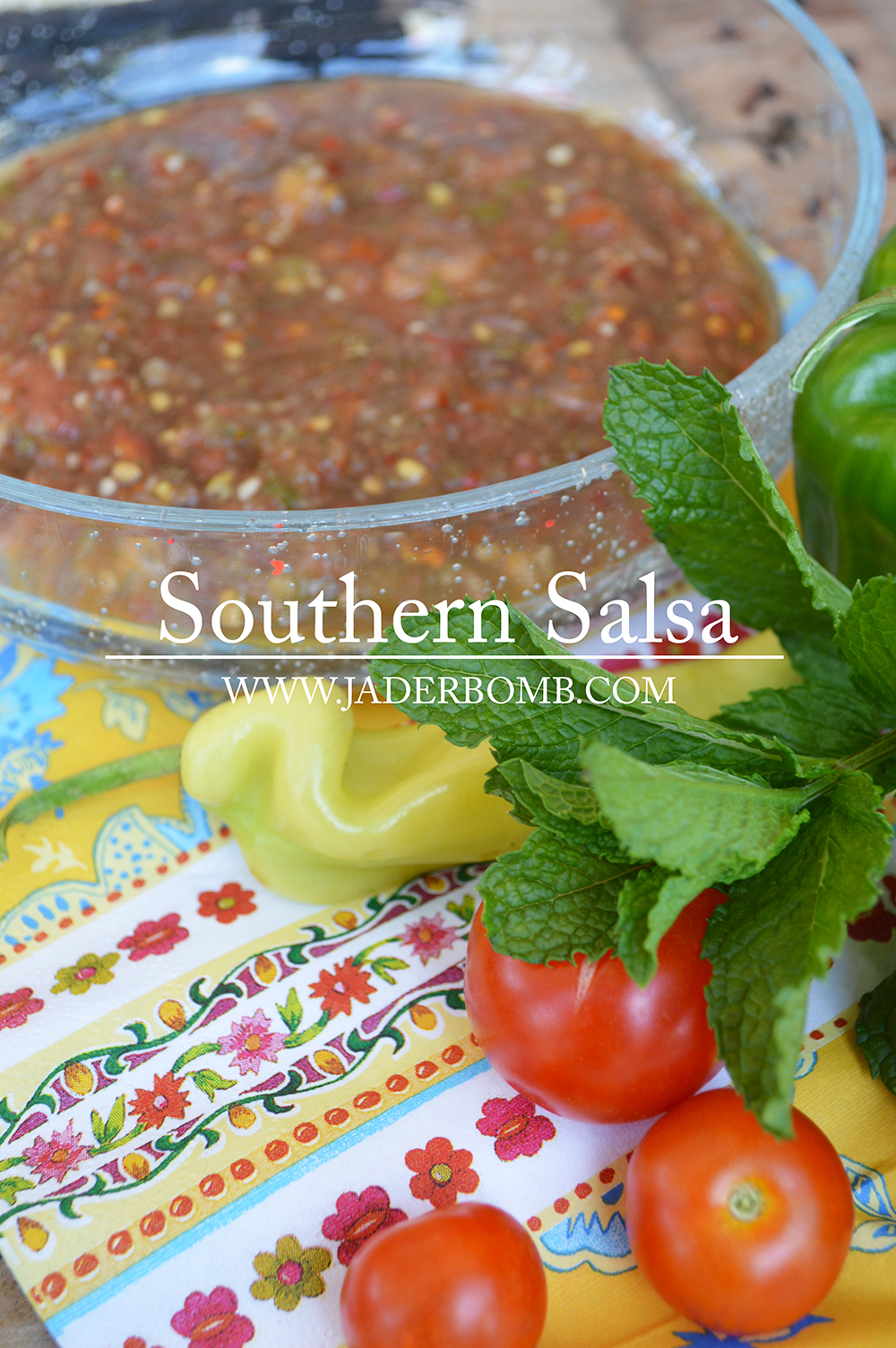 Homemade Fresh Southern Salsa
Ingredients
3 Roma Tomatoes or 2 Cups of Diced Tomatoes
1 small onion ( I prefer White)
1/2 Cup of Dried Red Pepper Flakes ( You can add more if you like it HOT)
1 cloves of garlic
1 Bell Pepper
1 Banana Pepper
Tony Chachere's​
Tabasco
1 lime (juice only)
5 leaves of cilantro
Garlic salt to taste ( I love garlic salt so I add a lot)
2 jalapeños (Use all the green and a few seeds only -more seeds means HOT)
Instructions
We want to combine all the the ingredients so I am using a blender. In the blender add: tomatoes, 1 clove of garlic, bell pepper,banana pepper, white onion, juice of lime, cilantro, garlic salt, jalepenos, 3-4 seeds, and red pepper flakes. Chop on low until it's chopped to small pieces. If you have a small blender you can chop 1-2 ingredients at a time then mix it all together at the end. Don't forget to sprinkle a little Tony Chachere's​ on it and a few drops of Tabasco. If you ask me this makes it pop! Once done I like to put in the fridge for a few hours to let all of the ingredients bind together. Enjoy with a salad, baked chips or on tacos!
http://jaderbomb.com/2015/07/02/homemade-fresh-southern-salsa/
How gorgeous are these veggies! I love the pretty colors!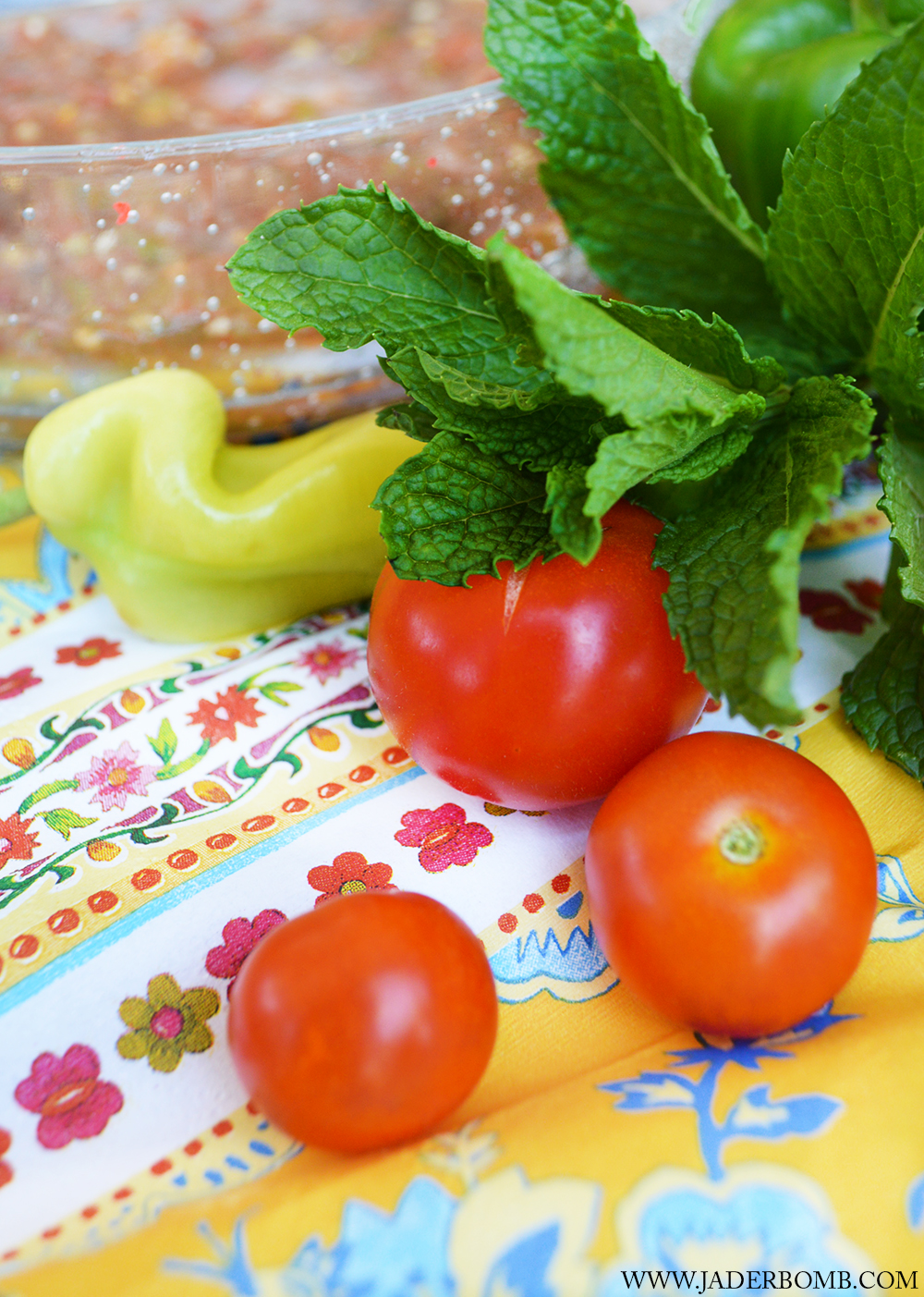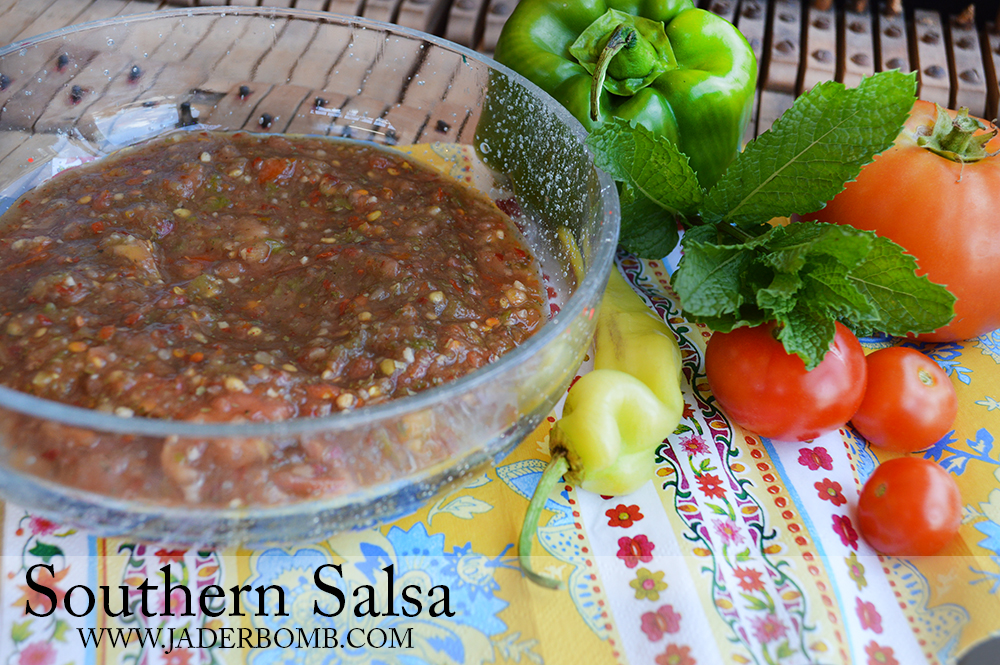 Hope you enjoy this recipe! Don't forget to share it on your Facebook wall or with your friends!!!
Come visit me on all my social media sites! Just search JADERBOMB on all of them!
FACEBOOK | INSTAGRAM | PINTEREST | TWITTER | GOOGLE+ | YOU TUBE
&copy Copyright
jaderbombllc
, All rights Reserved. Written For:
JADERBOMB