Since the new season of American Horror Story is about to start I wanted to finally sit down and share with you something pretty dam awesome. Sure the word awesome can mean many different things but this my friends is AWESOME. Now, this all happened at the end of this past season but the universe spoke to me and it's finally time to share.  Actually my friend Kaelah inspired me to post today since she is posting about her trip to Mexico that she took MONTHS ago and finally is posting, so THANKS FRIEND!  My partner is an artist and if you are from Louisiana you would know exactly what I mean. She recently got commissioned to do a piece for Kathy Bates for American Horror Story. I just had to share this with you! Daina Daigle one of the hair artists ( who lives in Louisiana) worked on the set the entire season of Freak Show. She is a very talented artist as well and she is the one who commissioned my partner Candice to do this wrap gift. She even won an emmy for American Horror Story: Coven! Can you imagine how excited we were when we found out. STOKED. We had NO idea when the piece was getting delivered we would literally meet Kathy Bates but you know how I am with the Universe, I make shit happen. At least in my head I do, hehe. If you believe in the law of attraction then you know that is the first step to making things happen. I am not sure if Candice was more excited about the piece or the fact that this is my favorite show in the world and she knew how stoked I would be. So let me begin by telling you about the day from beginning to end. Enjoy!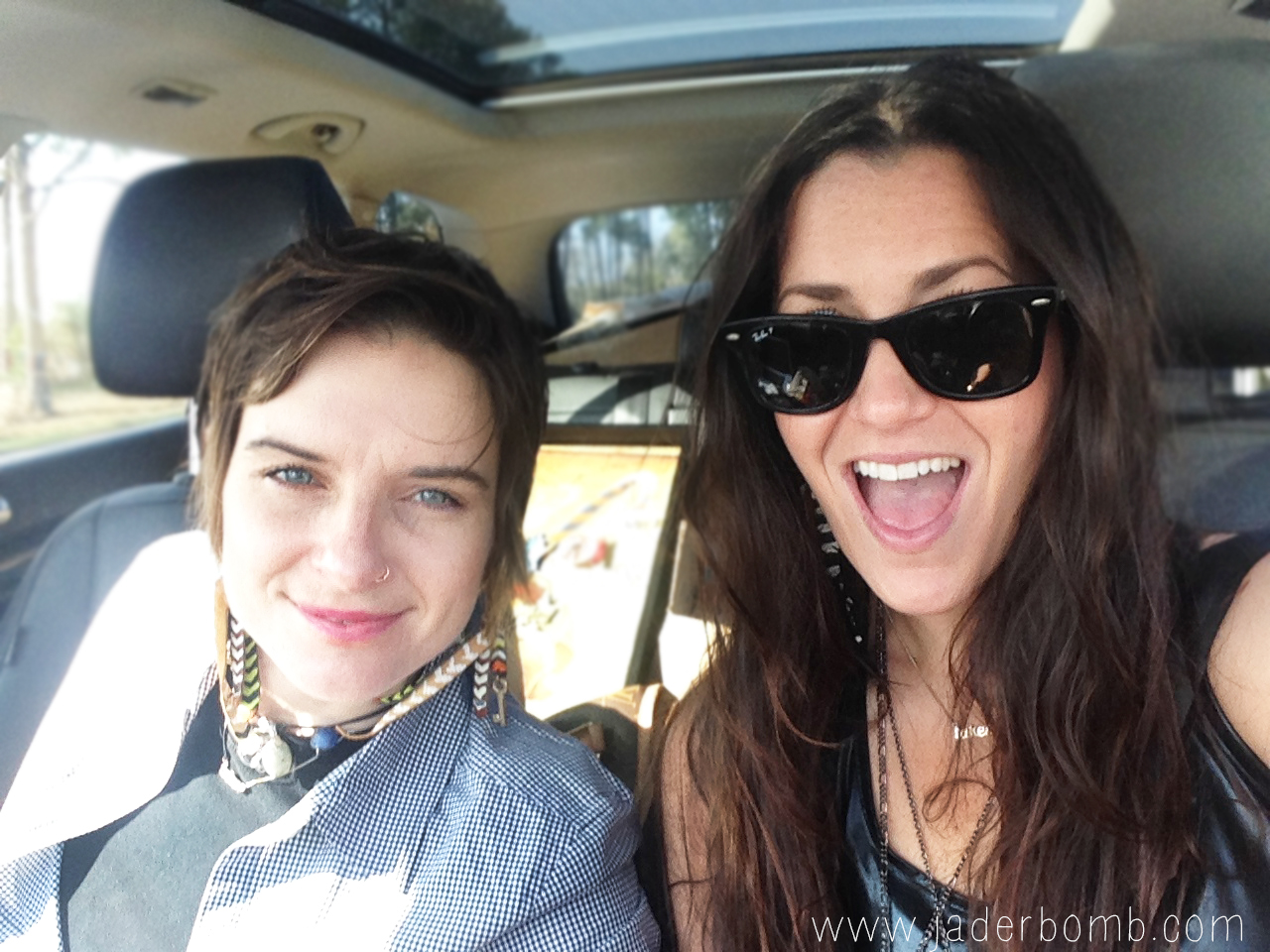 We left early in the morning for New Orleans. There is a sneak peak in the back seat of the piece! We got a coffee and tons of gas station junk food and hit the road. We blasted the best music and sung loud while enjoying the sun shining through the sun roof. The day was already perfect. Daina told us to text her when we arrived in New Orleans to get the "address" (pinch me- the address)… The fact that we would have the address to where they were filming was surreal. We finally got near the set and we realized we needed diesel – story of our life. Now you would think every gas station on earth would have Diesel but no, we went to 4 gas stations and none had it. I kept telling Candice we were gonna run out of diesel and not make it to the set. I think we were laughing and freaking out at the same time. While riding around for about 20 minutes desperately searching for diesel we ironically passed by the house from American Horror Story – Coven. Can you imagine the excitement when we realized this! Obviously we had to get out and take a picture.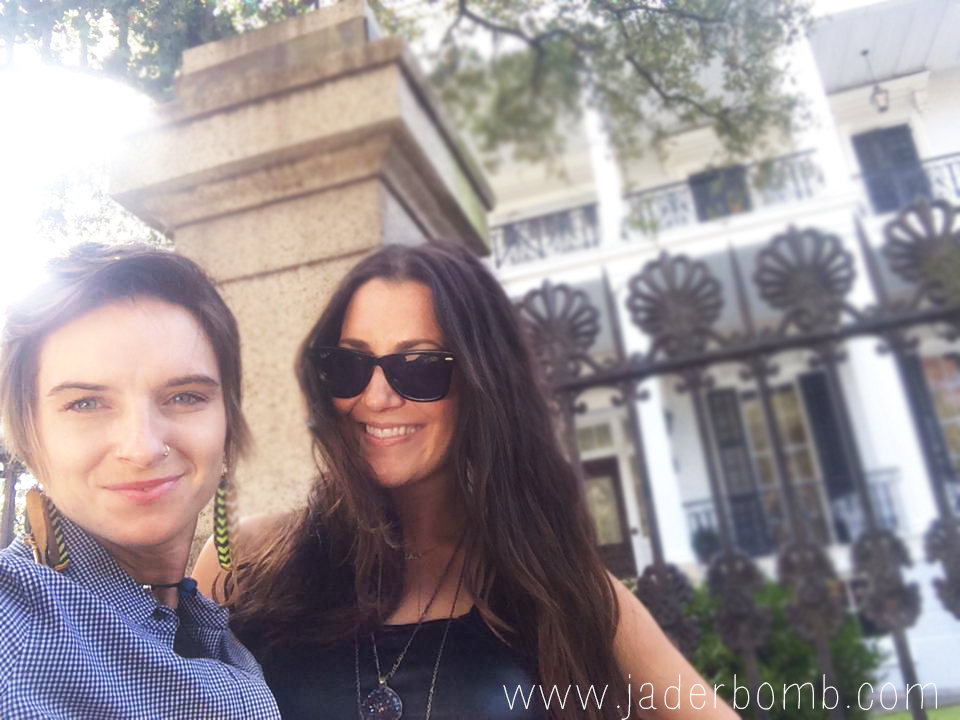 I told Candice the stars were lining up for us that day! I mean how freaking ironic is that. We had to take a quick pic and post!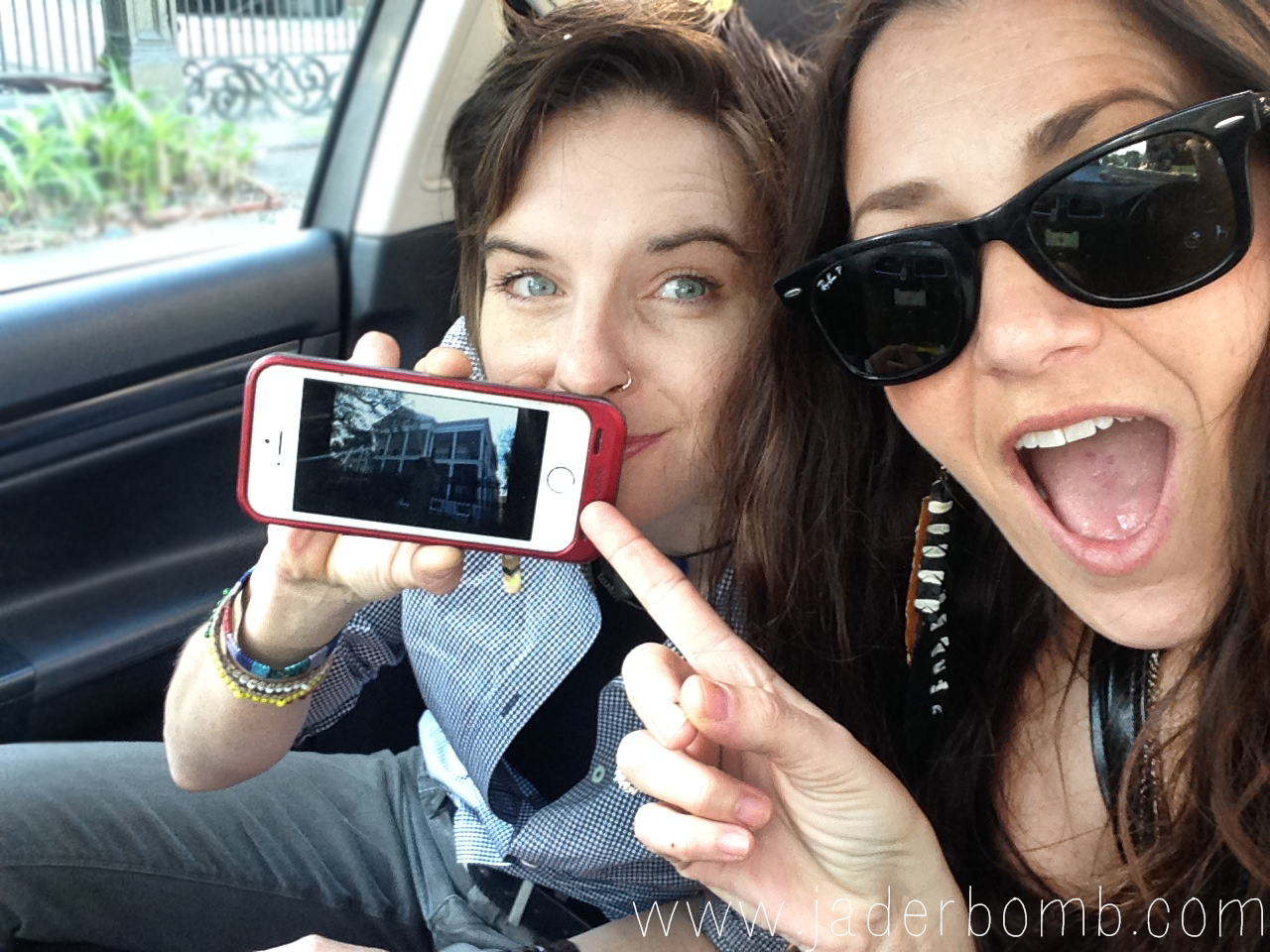 After our impromptu photo shoot we finally arrive without diesel. We figured we would rather get to the location than use our last 5 miles (per the car) looking for some. I told her we would deal with that issue after we were done. I mean worst case scenario we would have to ask Jessica Lange for a ride to the gas station.
We get to the gate where Daina told us to go and the lady there was waiting for us. She just let us in and when that happened my heart started to beat so fast I thought I was having a heart attack. Candice was so nervous she just kept laughing which made me laugh, then we both realized we had NO idea what we were laughing at. I get out of the car first and the first person I see walking about…10 feet away from me is Jessica Lange. SHUT THE FRONT DOOR. I wasn't sure if I should run and jump on her, you know those big bear jumps or just walk by her without making a big deal. It's just Jessica Lange, no big deal. WTF! So I am quietly trying to get Candice's attention by "Pssss'ing" to her, which I am sure Jessica heard. She finally looked at me in the car and I may have given her a look like a man with a gun was in back of me while pointing my finger to the back of the car. Visualize that for a hot minute. Yeah.
We spoke to her for a hot minute and gave her a print, however she didn't want her picture taken. In her exact words "I don't do pictures". So I was left with NO other choice than to "sneak" one. I will however keep that one private because I do respect peoples wishes, sometimes…hehe! She was extremely nice though and talked to us for a while. See below, we are rebels. I love that me and C are on the bottom of the print!
We finally met up with Daina and presented Kathy with her wrap gift. She is seriously the nicest woman in the world! She even shed some tears. Ben Wolf was so sweet to us, RIP…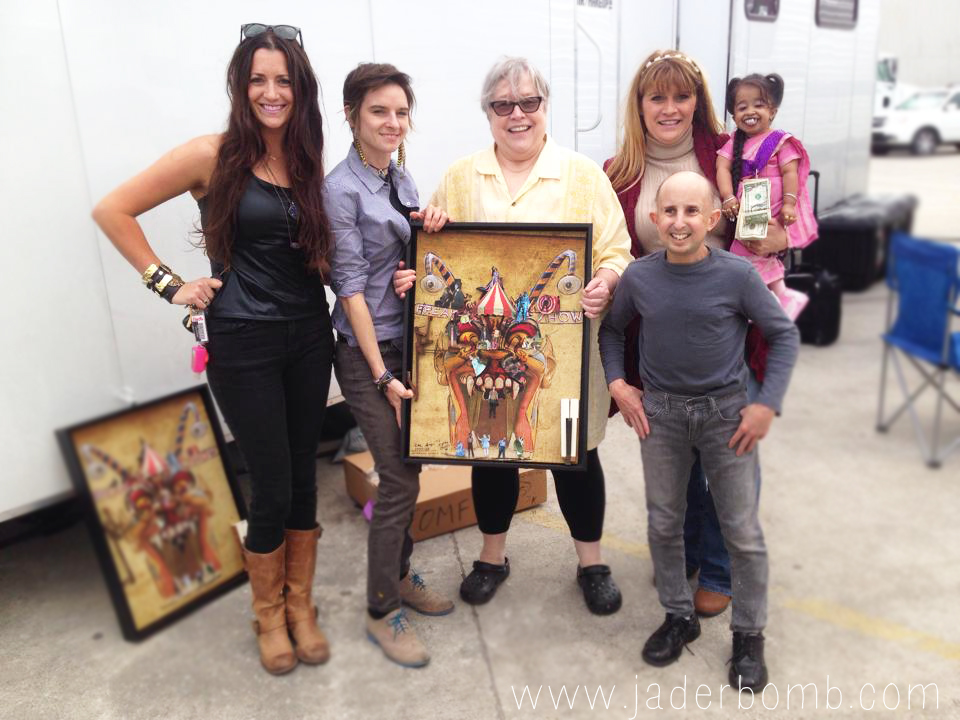 Here are a few shots of us with some of the cast and artists on set.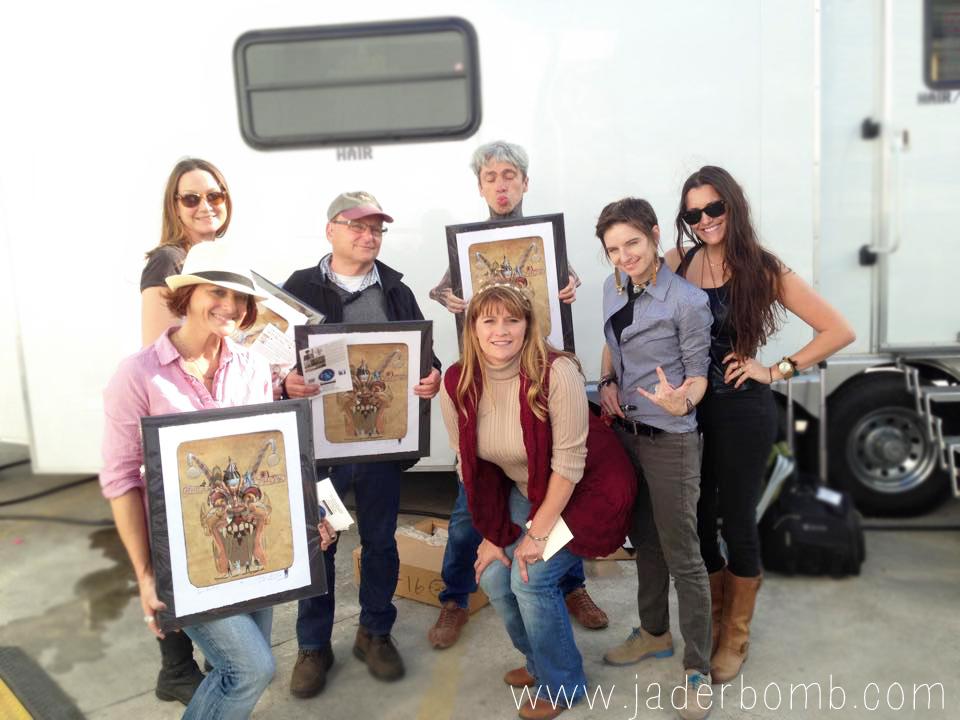 Ma Petite…let's just say I wanted to put her in my purse and bring her home with me. She laughed the entire time and of course it made us laugh! The day we were there she and Kathy was on set, even though they had "died" in the show. I did catch on to this and immediately I knew the final episode was going to be great because that meant they were coming back!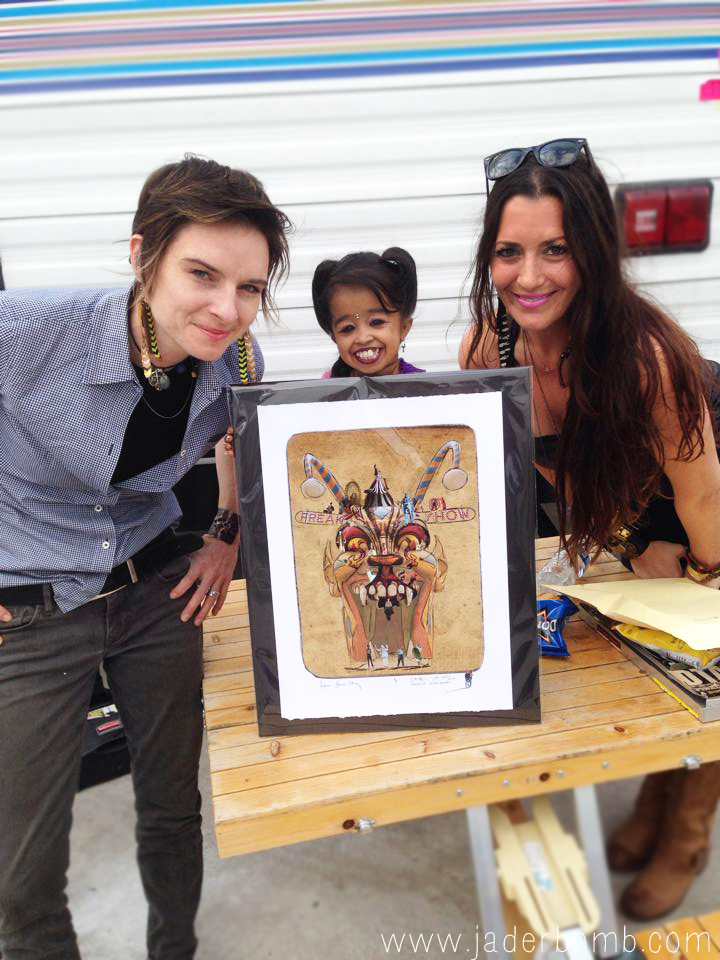 Amazon Eve was simply amazing. She was warm and welcoming and super stoked to get a print. Rose on the skate board was so genuinely nice as well!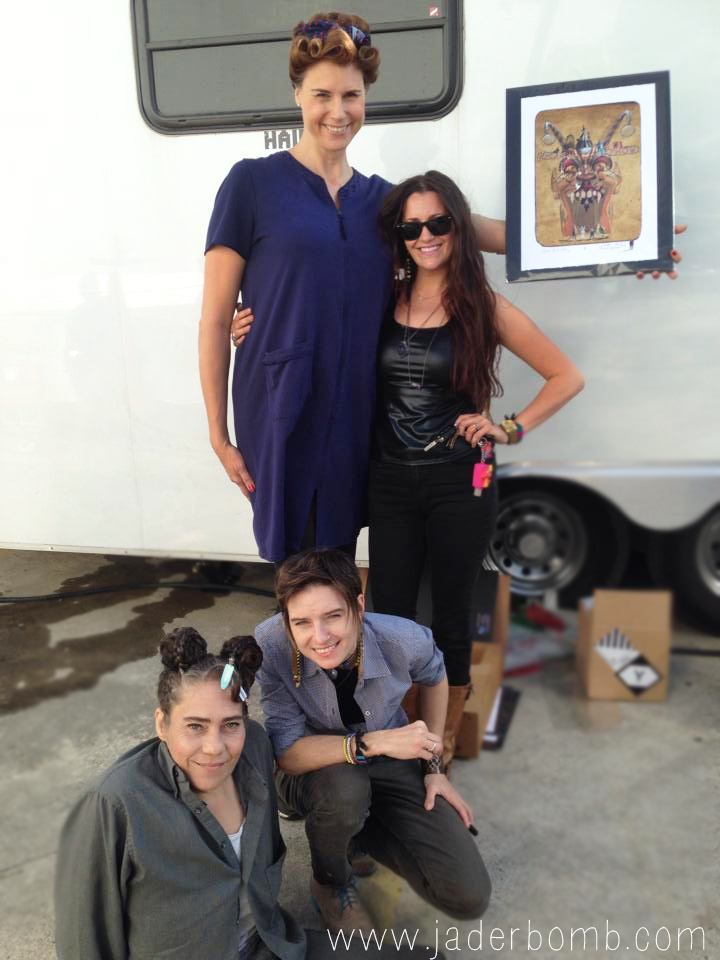 Once we gave everyone their prints we just spend the rest of the day hanging out on the set. I won't lie it felt surreal. Only because it's strange watching something on t.v. every week and then to see the true location, props and cast. I can't stress enough how awesome Kathy was! She didn't feel like a celebrity when we were there, more like a sweet mother! She photobombed our planned picture!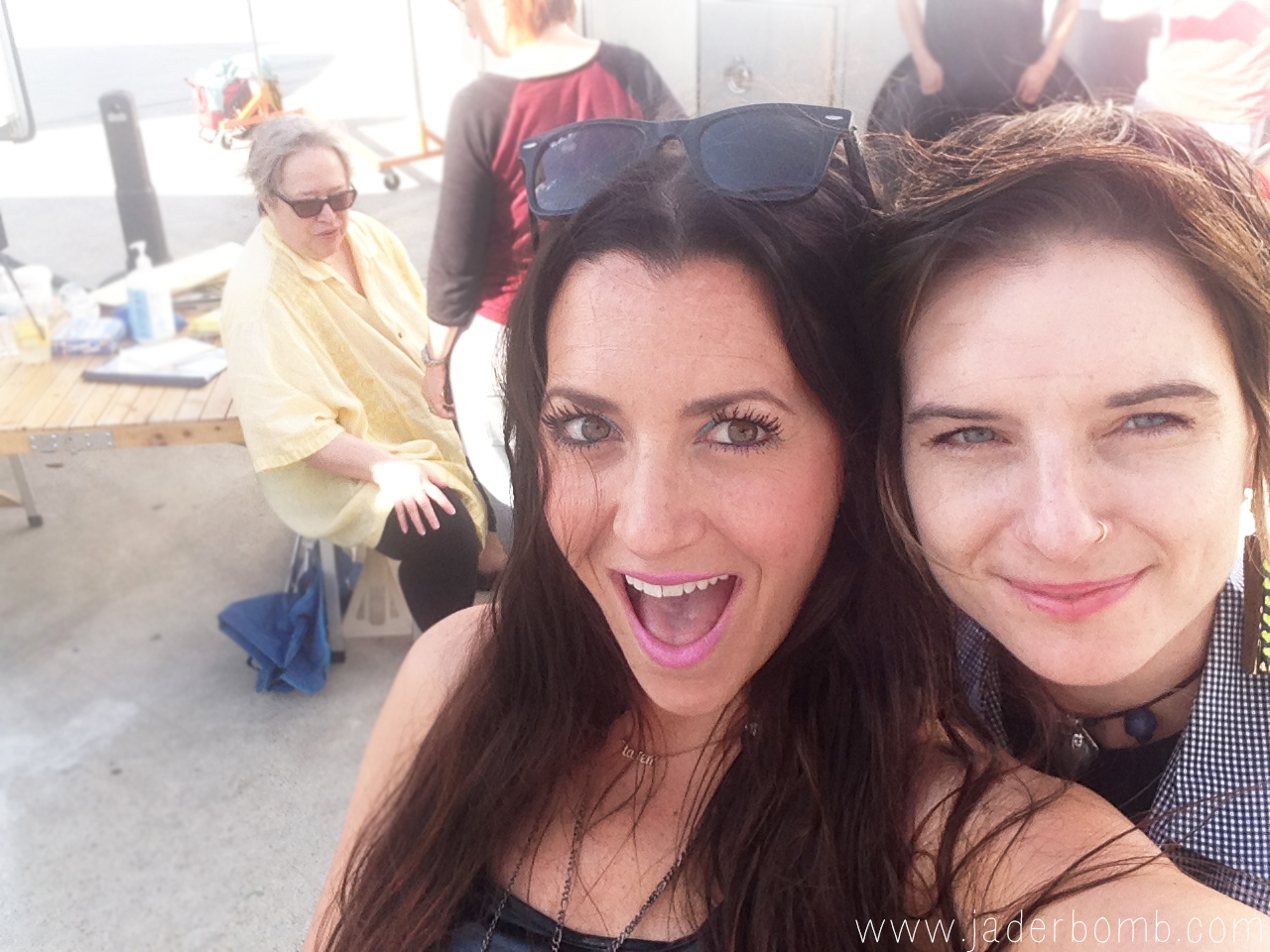 Everyone on the set got prints like I said earlier but Kathy got a custom 3-Dimensional piece. We made an extra one for us and brought it for everyone to sign. She wrote the sweetest personal note to us on ours.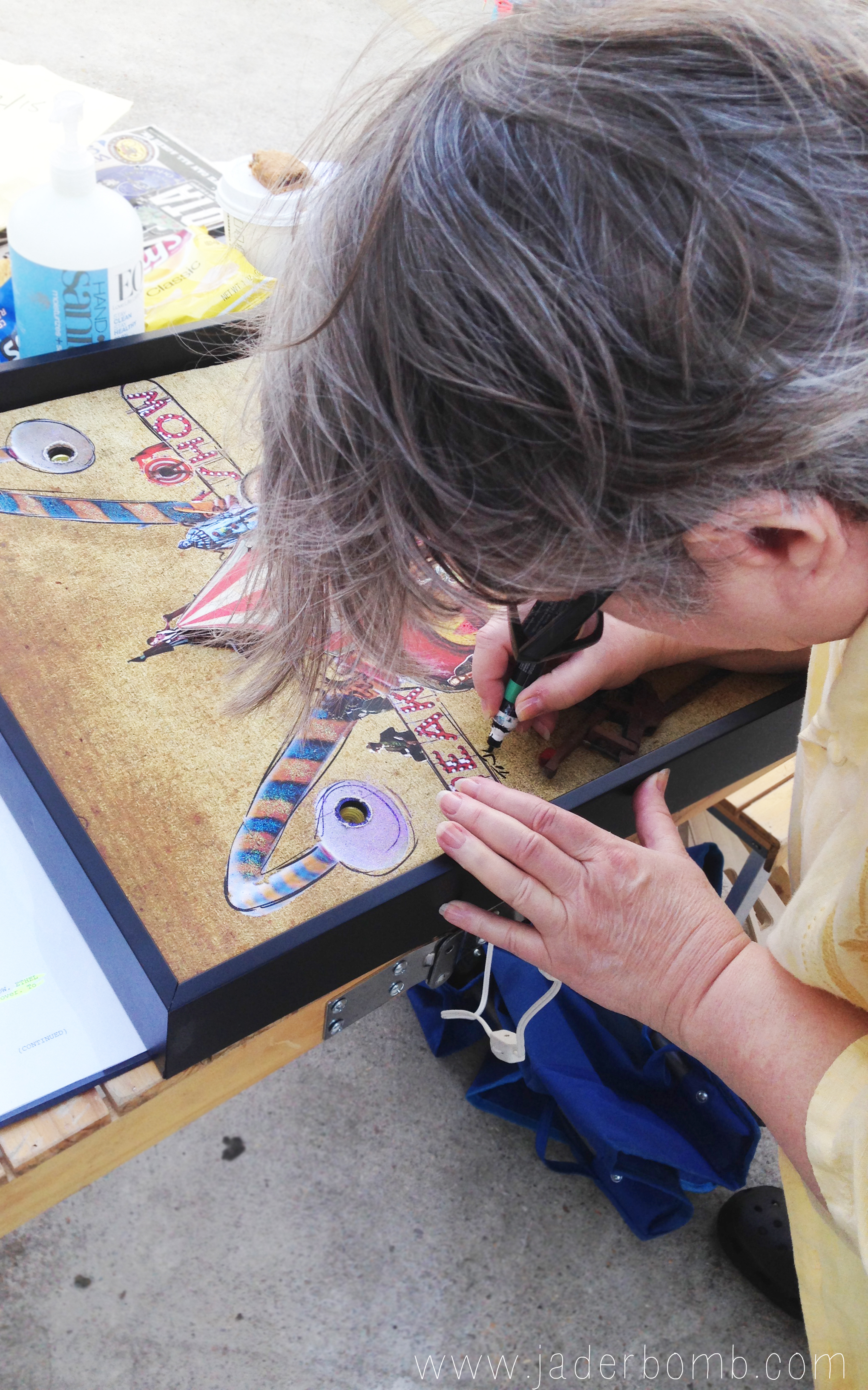 Everyone remembers the WHEEL OF DEATH… Well folks here it is! Yes I know, I am still flipping out looking at these pictures. I wanted to get strapped to it for a video but I figured that might make me throw up and this was NOT the day for that. Agreed!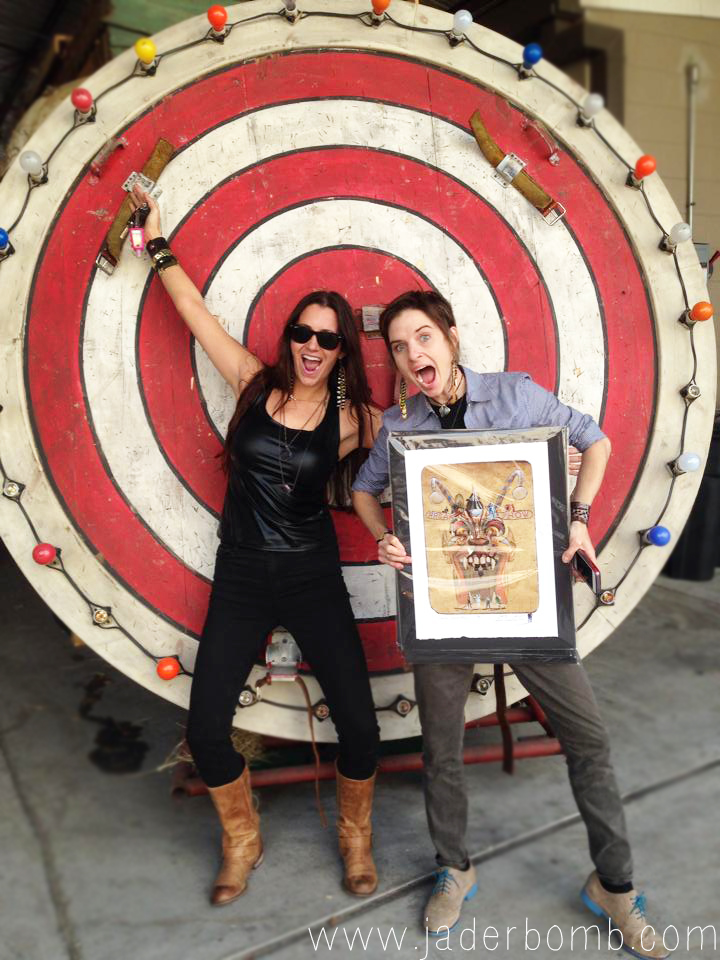 It was truly amazing seeing all of the tents inside this huge building. It felt like we were in another era and it was so strange because on television they look like they are outside when in reality they are NOT! They did have an outdoor set they used when filming certain scenes but for the most part they filmed in here.
Here is my honey looking cute as can be.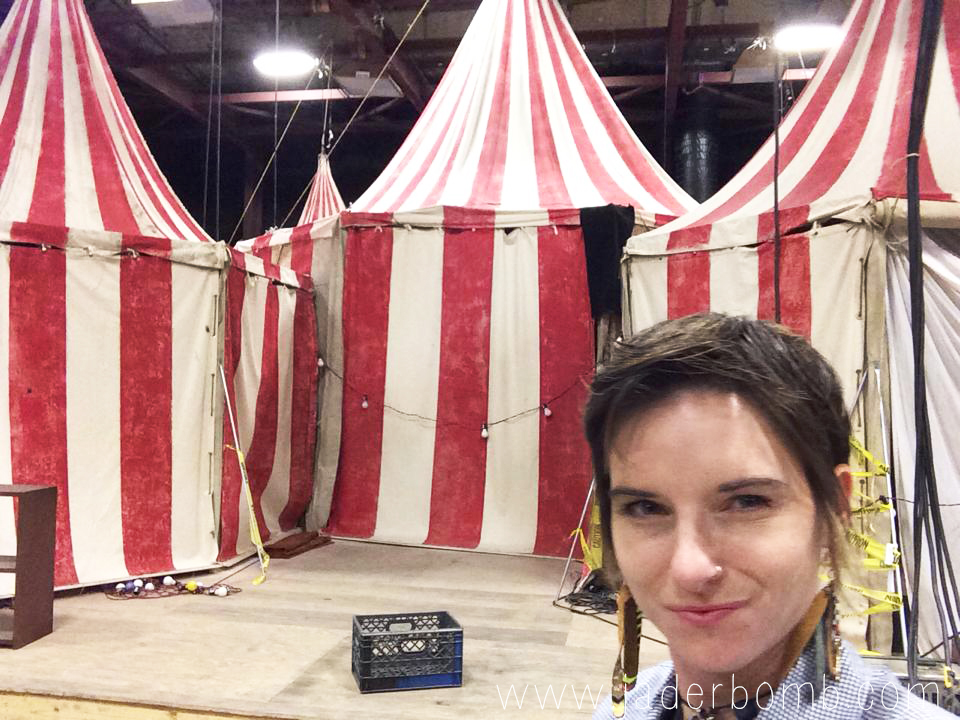 If you watched the show then you know Jessica had her own quarters/tent. I think this was my favorite part of the day. Candice laughed the whole time because I literally walked all over touching everything I know Jessica touched and sitting on her sofa and chair!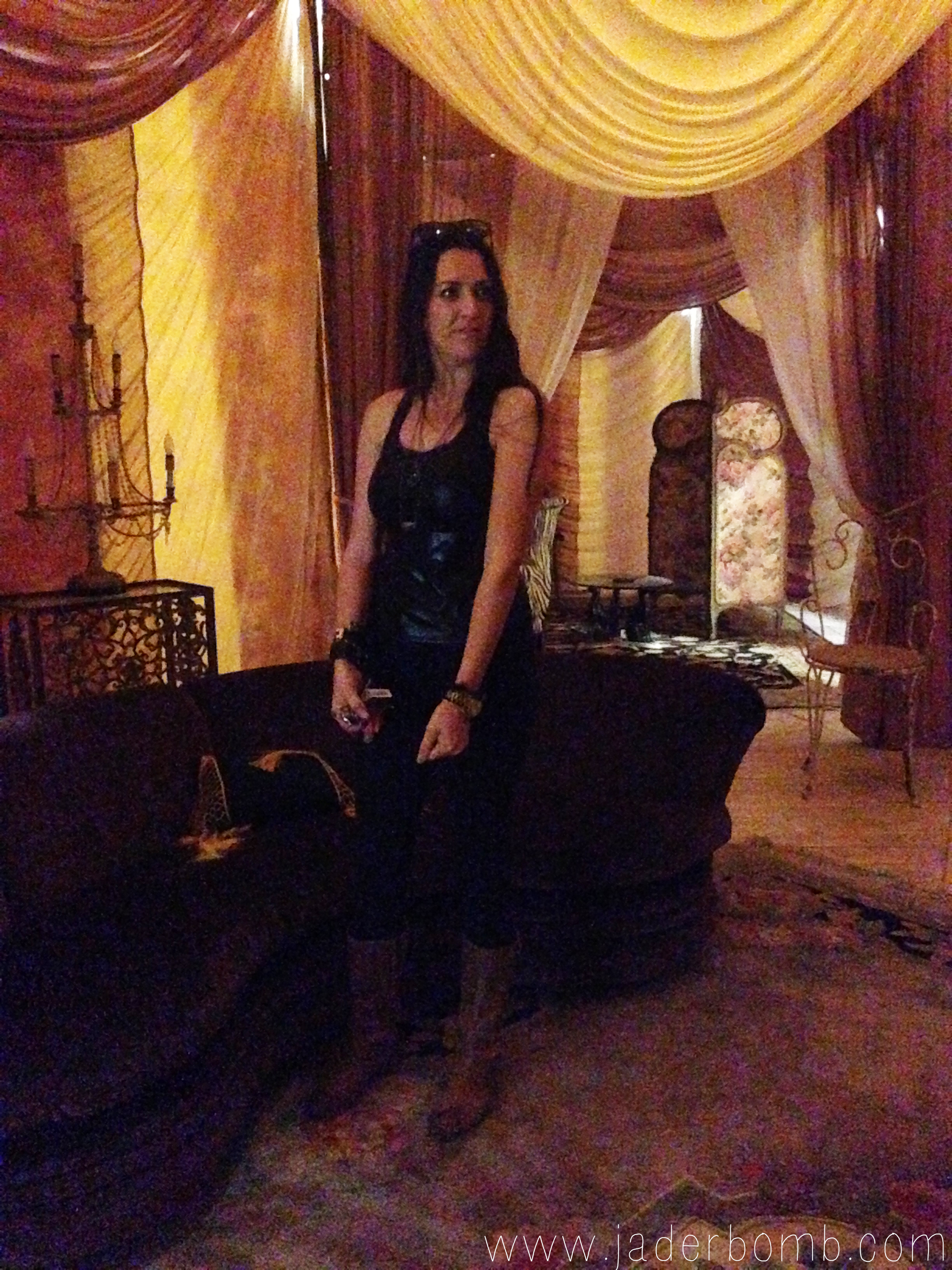 Finally when it was all over we decided to go downtown and have a celebratory drink! We deserved it right.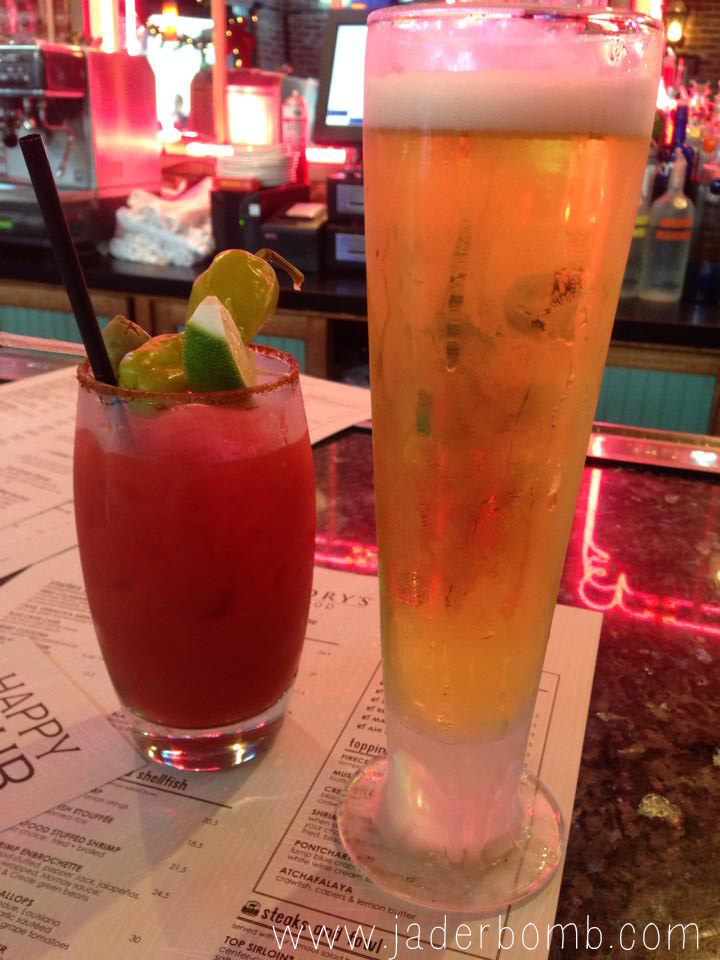 I would say this was one of the best days ever for both of us.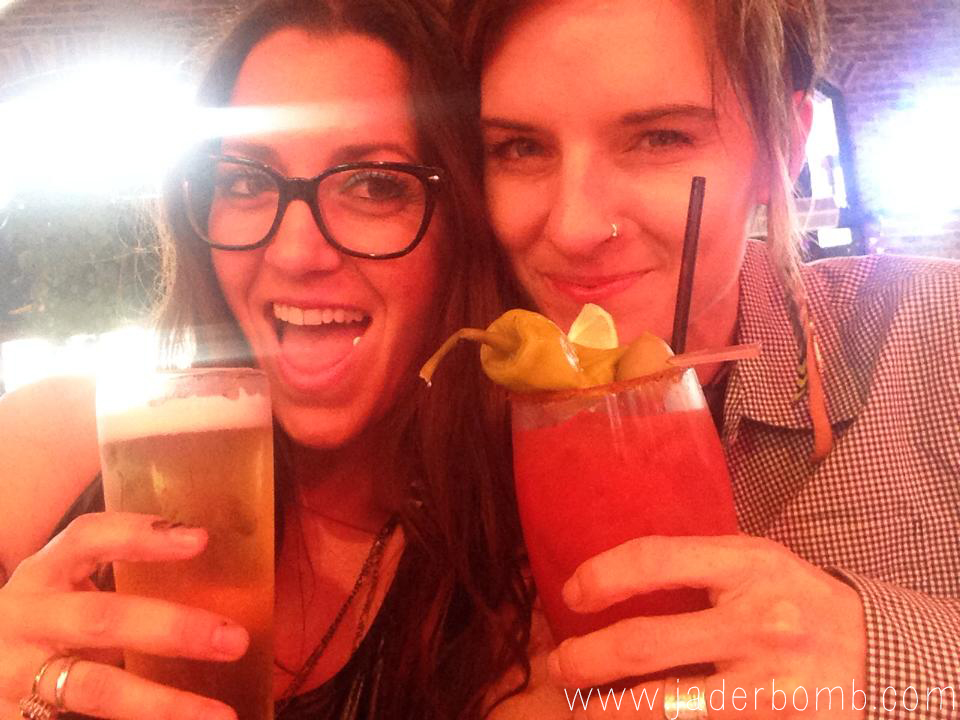 You know we had to make a quick stop at SAKS! All I am saying is there is a beautiful Louis Vuitton store in here……… ♥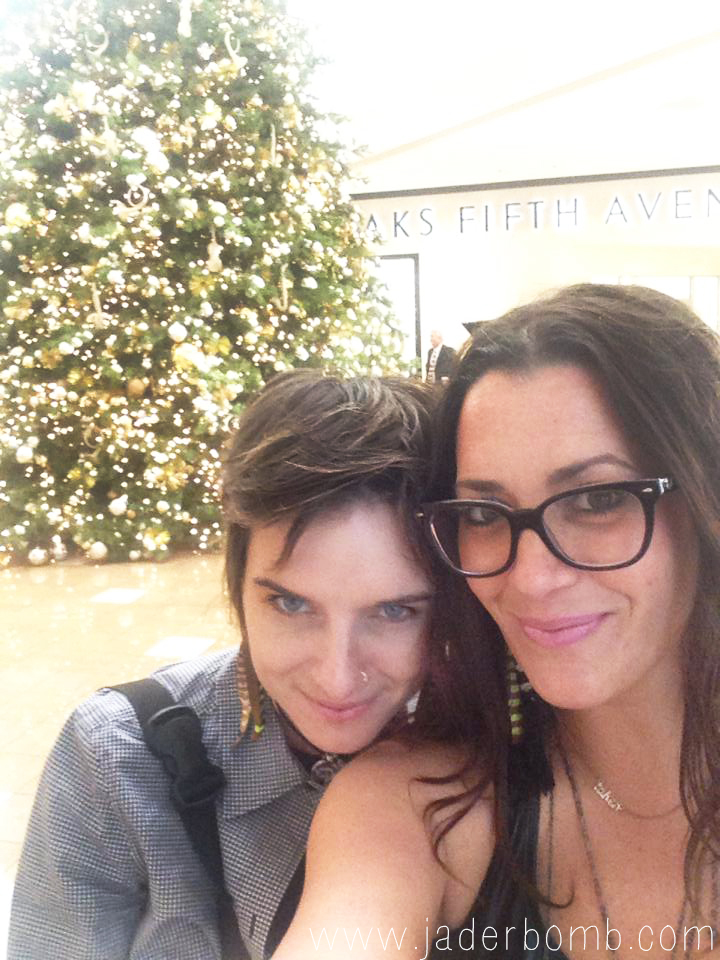 If you want to purchase a print of the design just click HERE and you can order one! Trust me it's a one of a kind piece! Make sure to view it because it's worth seeing up close!
Until next time! Huge hugs from my computer to yours!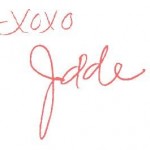 &copy Copyright
jaderbombllc
, All rights Reserved. Written For:
JADERBOMB