DYE to DIY
11/01/2011
Featured BLOGGER: Trista Perot of Mommy Upgrade
Happy 1st of November all of my Jaderbugs! I hope everyone had a {{boolicious}} Halloween! I have to tell you when we were trick or treating last night someone was giving out "batteries". Yes, batteries. It's like one of those

Read More →



DYE to DIY
10/25/2011
Behind the scenes at MARTHA STEWART!!!
Happy whatever day it is my little Jaderbugs! I have to tell ya, I am lost when it comes to days. I am sitting here writing this post and I have a new glade candle burning on my desk and

Read More →



DYE to DIY
10/24/2011
Cajun Dictionary
Happy Sunday all my Jaderbugs! I know my blog is "typically" a craft blog but sometimes I like to throw in some fun things for you! This, lemme tell you I could not pass up! It's something I believe everyone

Read More →



DYE to DIY
10/23/2011
Do YOU wear PINK?
(click on the picture to read about Susan G. Komen) You know, this month is a very special month for me. It's one month that you will SURELY see pink all over! It's so pretty when you walk into a

Read More →



DYE to DIY
Stenciled T-Shirt Craft
GOOD…NIGHT my Jaderbugs! It has been a long day. Still very blessed with the life I was given and you can bet your kitty's winter wardrobe that I am not taking any second for granted! EVER! Guess what! It's almost

Read More →



DYE to DIY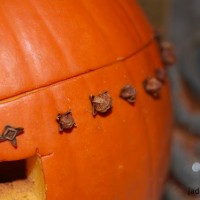 10/22/2011
Pumpkin Pie Potpourri-Tutorial
Hey there all you little Jaderbugs! How is your week{end} going! I HOPE good because today is FRIDAY!!!! I used to get excited about the weekends when they only consisted of getting up late in the mornings and watching cartoons.

Read More →